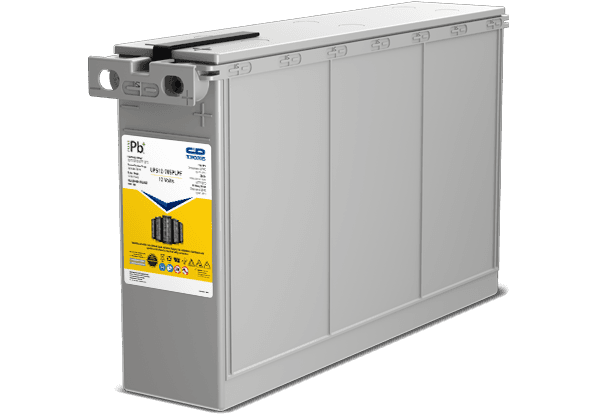 Pure Lead Plus UPS Battery

Pure Lead Plus UPS Battery
The smart choice to back you up
C&D Pure Lead Plus (PLP) UPS batteries feature the safe and sustainable design of VRLA. Thanks to proprietary paste and grid technology, our Pure Lead Plus batteries reduce your replacement costs by up to 40% and have a 2-year shelf life operating at higher ambient temperatures. The Pure Lead Plus line is the smart choice for your data center backup needs.
BAttery Quick Facts
Battery type
VRLA Pure Lead AGM (VRLA)
capacity
300-1000 Watts per cell
operating environment
Indoor Outdoor Controlled
Certifications & Compliances
TAA Compliant Complies with UL1778, 924, 1989 AND 94 V-2, BS6290-4, IEC-896-2
Features & Benefits
Lower Battery Replacement Costs
Reduce battery replacement costs by as much as 40% over traditional VRLA batteries. *
Patented C&D True Front Access (TFA) design reduces number of connections needed, improves power efficiency, and increases measurement accuracy.
* Assumes a replacement cycle based on standard warranty of three years for VRLA and five years for PLP over a 15 year shelf life.
Reduce your UPS Footprint
Requires up to 40% fewer batteries than leading competitors.
Reduce cabinet space required for your desired runtime by up to 28%.
Reach your Sustainability Goals
PLP batteries can operate in temperatures up to 30C/86F and allow you to run your data center at a higher temperature, saving money on cooling costs and helping to achieve your sustainability goals.
Our batteries are 98% recyclable. \
Features:
12+ year design life @ 25˚C (77˚F) with storage capability of 2 years at 25˚C (77˚F) with minimum upkeep
Standard warranty of 5 years at 30˚C (86˚F)
MSE's Advanced proprietary paste processing for high active material utilization resulting in low float
Patented Long-Life Alloy in the grids to minimize grid growth, reduce gassing, and extend battery life
Available in both Top terminal and TFA (C&D True Front Access) formats
Our TFA design maximizes energy density and minimizes internal resistance by providing a direct connection from the plates to the terminals
Published rates down to 1 minute
Thermally welded and helium leak-tested case-to-cover bond ensures a robust leak-proof seal
Can be operated in any orientation
UL-recognized component
Not restricted for air transport – Complies with IATA/ICAO Special Provisions A67