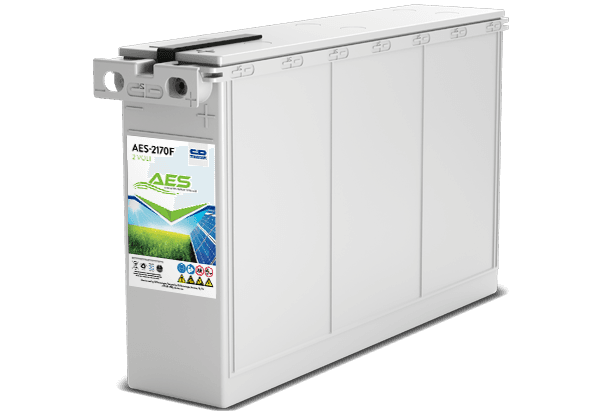 Advanced Energy Storage Lead Carbon AGM Battery
Advanced Energy Storage Nano-Carbon AGM Battery
C&D's Advanced Energy Storage (AES) battery line meets the demanding standards of applications that may face extreme temperature, shock, or vibration conditions. Enhanced features such as a rugged case, Deep Cycle Series (DCS) Technology, and Advanced Nano-Carbon® technology make the AES an ideal choice for renewable energy applications or any application that calls for repetitive cycling.
BAttery Quick Facts
Battery type
VRLA Nano-Carbon AGM (VRLA)
capacity
100 - 204 Amp-Hours
design life
3,000 Cycles @ 50% DoD
operating environment
Indoor Outdoor Controlled Outdoor Uncontrolled
Certifications & Compliances
Complies with UN 2794. UL1989 Compliant
Features & Benefits
Field-proven DCS high density active material for extended cycle life
C&D Nano-Carbon® enhanced active material to maximize cycle performance and Partial state of charge (PSoC) operation
PSoC operation allows installation into nearly all cycling applications
Improved charging efficiency reduces grid corrosion for longer battery life
12V Monobloc design aids installation and handling
Removable carrying handles allow installation without specialized lifting equipment
Rugged polypropylene case and cover for resistance to shock and vibration
AGM construction means no liquid electrolyte, eliminates watering and spills
UL recognized flame-arresting one-way pressure-relief vent for safety and long life
Over 98% recyclable
Not restricted for surface transport- classified as non-hazardous material as related to DOT-CFR Title 49 parts 171-189.